POPULAR INDIAN TRADITIONAL DRESSES
Indian has many Colours, all over the world Indian Tradition is super exclusive because of its different states with different cultures. Ethnic apparel in India varies by state as well as indicated by the distinctive religions, tribes and groups inside the state. India is one of the world's most established and most different societies. There are 29 states and 29 different fashion style and dress codes, Here are some highlights of Indian traditions.
ASSAM
The northeastern state which lies at in the heart of India. Assam has contributed massively to what decent variety in Indian culture truly remains. During the festival of Bihu, which is a traditional festival of Assam, the majority of men and women can be seen donning some Ethnic attires.
Assamese wear a very simple dress. The native dress of Assam is "Dhoti" and "Gamosa"  for men. Dhoti is used to cover the lower half of the body. Gamosa is an important and significant part of the Assam culture. Basically, Gamosa means 'A cloth to wipe one's body' and is a white cloth with a beautiful red border on three sides and woven motifs on the remaining one.
The "Mekhela Chador" is the traditional dress for the women of Assam. It is worn by all the women except children.
KOLKATA
In Kolkata, Women Traditional attire is saree, which was worn across India but the Bengali Saree was worn in a different manner. Bengali style is pleating and draping. Bengali saree is made up of cotton, silk,tant and chiffon etc. The modern draping method in India originates from Bengal. "White Saree with Red border" is the traditional attire of women which was worn during the festival of DURGA PUJA.
MEN's traditional attire is white Dhoti with Panjabi or Kurta which is made up of cotton or silk. Dhoti is tied around the waist and then wrapped around like a loin cloth between the legs – as is worn around the country.
GUJARAT
Gujarat is the western state of India. Women Traditional attire in Gujarat is Chaniya Choli, Lehenga choli,  Ghaghra choli. Women have worn Odhni (Dupatta and Chunni') over it. This traditional dress is made of heavy embroidery or mirror work over it and a beautiful embellishment on women attire.They have worn this dress on festive occasions like Navratri.
Men's traditional dress in Gujarat is kediyu or kurta on the top and dhoti or chorno at the bottom.Chorno is a type of cotton pants that the Gujarati men wear, This dress is the native dress of Gujarat for men. Basically, he worn Churidar Pajamas and Kurta, paired with vibrant turbans for formal as well as casual occasions.
UTTAR PRADESH
The people of Uttar Pradesh wear a variety of native dress and western clothing. Traditional styles of dress include colourful draped garments – such as saree for women with different embellishment, Culture clothing of UP is Salwar Kameez. Women wear saree on occasions.
Men wear Churidar payajams with Kurta along with headgear Topi and Pagri. Sherwani is worn during the festival and special occasions.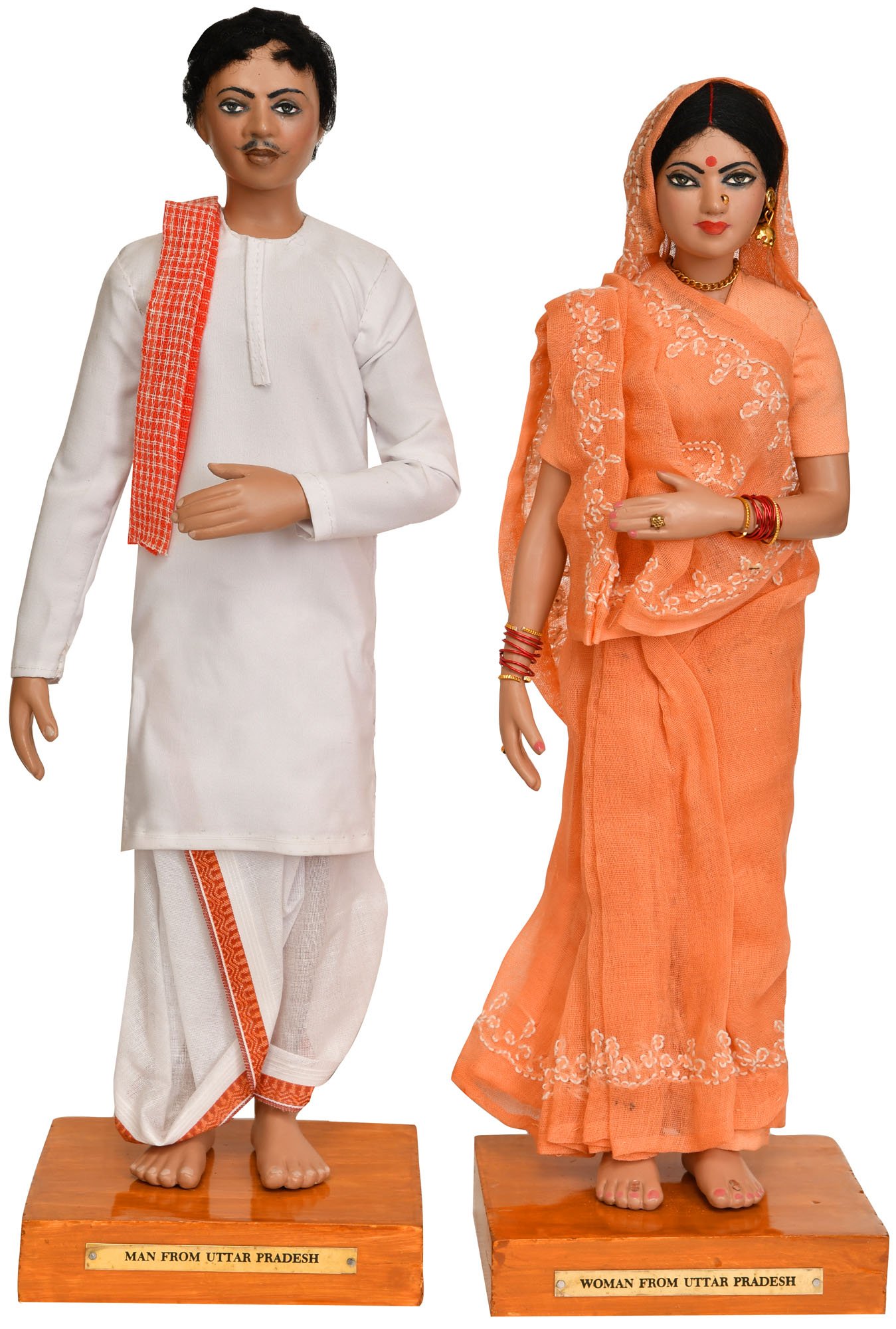 KERALA
Kerala is also known as Keralam, It is the southern state of India. The traditional dress of Kerala is Mundu which worn by both men and women. It is considered as a casual dress. It is a white Cloth wrapped around a waist, it has a border which is of any colour.Melmundu which is worn like a towel on the shoulders. These days mens wear a white shirt also.
Women generally wear a saree which was are often made of Kanchipuram Silk or Benarasi Silk and embellished in a similar way.
PUNJAB
Women have worn Salwar Kameez or Churidar. Patiala Salwars originate from this state. Phulkari work is the Floral Heritage of Punjab. The style of this state is scarves and dupattas which have a phulkari work over it.The women of the state also wear Ghagra with long Kurta and dupatta.
Mens wear Kurta Pajamas that sometimes feature the Churidar style as well. They also wear headgear such as Pagri. Punjab is known for its distinctive style of shoes, Juti, that has been adopted by the rest of the country for formal occasions.
MAHARASHTRA
Generally, men wear a dhoti with a shirt called PHETA.  They also wear a headgear which is made up of cotton or silk, called Patka and Pagdi but these days they rarely wear.
Women worn Saree paired with choli which was the traditional dress of Maharashtra.
Karnataka
The traditional clothing of the women of Karnataka is Sarees. Karnataka, being the most popular supplier of silk in the country, produces Sarees made of Kanchipuram and Kanjivaram Silk, as well as those made of a variety of brocades and chiffons. The men of the state wear Lungi paired with Angavastram.
JAMMU AND KASHMIR
Clothing of Jammu and Kashmir is tradition and culture of the state. The beauty of our country had originated from the Jammu and Kashmir.These costumes have exceptional embroidery works. Jammu and Kashmir is Home Fashion of India.Women in Jammu and Kashmir wear Pherans, which have different variations for Hindu and Muslim women. While the Hindu version has narrow sleeves, the Muslim version is characterized by its broad knee length sleeves. Hindu women pair these with a headdress called Taranga while Muslim women either wear Abaya or a headdress exclusive to the state that is tied around the head and pinned.
The men wear Pherans meant for them with Turbans. The traditional clothing of Jammu and Kashmir is known for featuring bright contrasting colour combinations.
DELHI
Traditional Clothing of women is Churidar and Salwar kameez in a variation of fashion style.
Menswear Kurta and Payajma or Sherwani.They wear Sherwani in functions and festivals.
As we know metropolitan nature of Delhi, ethnic clothing from all parts of the country is seen here.